Our mission
to provide the most actionable app store data.
About
At Apptopia, we all come to work every day because we want to solve the biggest problem in mobile. Everyone is guessing. Publishers don't know what apps to build, how to monetize them, or even what to price them at. Advertisers & brands don't know where their target users are, how to reach them, or even how much they need to spend in order to do so. Investors aren't sure which apps and genres are growing the quickest, and where users are really spending their time (and money).

Throughout the history of business, people use data to make more informed decisions. Our mission at Apptopia is to make the app economy more transparent. Today we provide the most actionable mobile app data & insights in the industry. We want to make this data available to as many people as possible (not just the top 5%).
Leadership
Eli Sapir
Co-founder & CEO
Eli drives Apptopia's strategic vision and manages investor relations. Before Apptopia Eli was involved in several startups, including: GPush, Oasys Water, GreatPoint Energy, and DVTel.
ELI'S FAVORITE APPS:
Uber, One Note, & Yelp
Jonathan Kay
Co-founder & COO
Jonathan leads the daily operations at Apptopia, including product development and global sales. Jonathan is passionate about people, sports, and really efficient processes.
JONATHAN'S FAVORITE APPS:
Spotify, Yahoo Sports, & Uber
Serge Balyuk
VP of Engineering
Serge fearlessly leads our engineering team and is responsible for Apptopia's underlying technology. His focus & passion is on data acquisition and backend architecture / infrastructure.
SERGE'S FAVORITE APPS:
Day One, CSR Classics, & Any.DO
Team
Sergey Yanovitsky
SENIOR DATA ENGINEER
Vitaliy Zheludkov
SENIOR DATA ENGINEER
Artem Kramarenko
SENIOR DATA ENGINEER
Anthony Bissell
SENIOR DATA SCIENTIST
Mario Lanao
DATA SCIENTIST
Brian O'Neill
SR. PRODUCT / UX DESIGN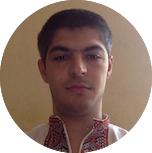 Marjan Krekoten
SENIOR DEVELOPER
Victor Gushek
SENIOR MOBILE ENGINEER
Alex Ulianytsky
SOFTWARE ENGINEER
Ivan Kukobko
FRONT-END DEVELOPER
Alexander Zolotko
DATA ENGINEER
Geoff Hladik
SENIOR INSIGHTS ADVISOR
Tess Suchoff
MARKETING SPECIALIST
Fernanda Pereira
RECRUITMENT SPECIALIST
Investors
Expansion Venture Capital
Telegraph Hill Capital
Kima Ventures
Mark Cuban
Owner of the Dallas Mavericks
Mark Kingdon
Previous CEO of Linden Labs
Tim Schumacher
Founder of SEDO